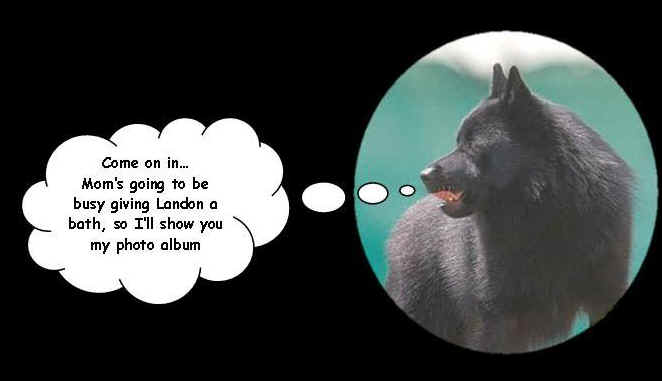 Champion
Logaven Let's Make a Deal
OA. NAJ.
but you can call me
" Monty "
(This site is best viewed with a monitor, and
SPEAKERS TURNED ON.)
that's me..., I finished with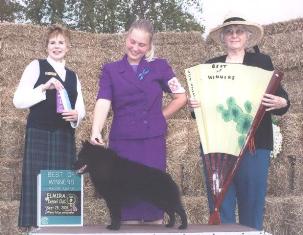 TWO
5 POINT MAJORS
at the
2004 Wine Country Circuit.
My Friend/Handler, Melody, showed me to perfection!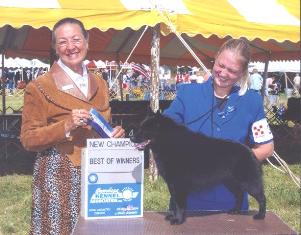 It was a fantastic show...my best bud

"Noah"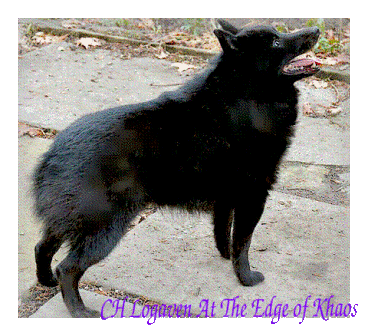 Champion Logaven at the Edge of Khaos
also finished his Championship with a 5 point major
at Wine Country!
Mom, Dad, Aunt Deb (Noah's Mom), and Shirley (our breeder)
were so proud of us!

Now...I've got to share a secret with you.
Mom thought I'd
never make it in the breed ring.

She thinks I have an attitude!
SO WHAT IF I GRUMBLE!!
I'm not going to bite, grrr it's just my way of communicating.
Did you know your not supposed to grumble at Breed Judges?
How come they squeak toys, but never give them to you?
How come when you're all set up and looking your very best,
they stare and you and make un-human like sounds?
Why is that?
Oh.....did I mention I TALKED

grrrr to the Judge
at my first point show.
I didn't get a ribbon,
even though I was the only one in my class.
I was supposed to get my first show picture that day,
but mom
forgot to ask the judge.

(that's the story and I'm sticken to it!)
So.........shortly after I didn't get a ribbon
at the point show, we watched an agility trial.
It was late in the fall about two years ago.
Mom was glued to the ring and I could see
her wheels turning.


Those dogs were having so much fun.
She thought if we did agility, I wouldn't have a thing to
complain about.

It was almost winter,
and Dad fenced in a 30 x 30 area in our yard.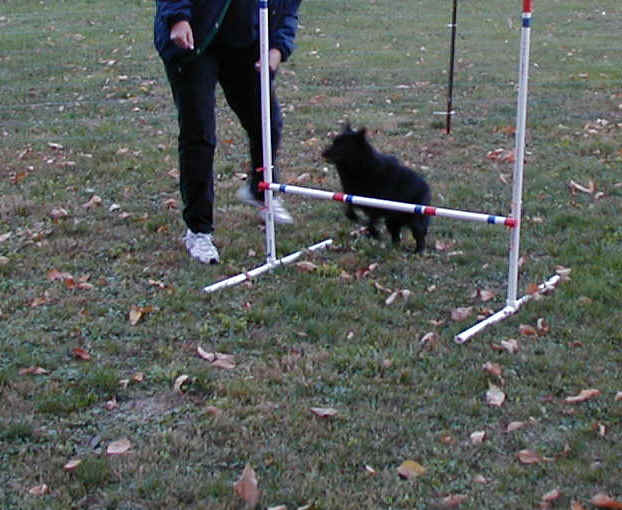 Mom made a few jumps
and painted a few boards to get us started.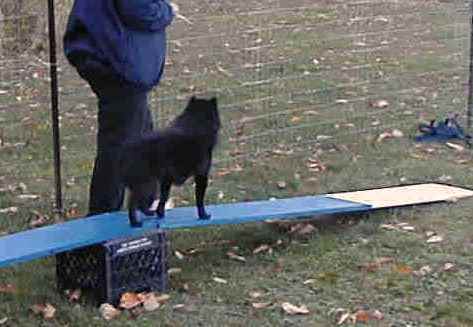 Mom and I worked on equipment all winter.
We cut the pipe for jumps in
what used to be the sewing room,
but we put them together in the living room!
I have a pretty cool Dad,
he didn't mind looking thru jumps to watch football.
I still did my normal job of keeping him happy,
sitting in his lap during most of the game.

A few months later we heard there was an agility class starting in our area.
Mom and Aunt Deb made a few calls and....
BAM!
My bud Noah and I were enrolled in an eight week class.
Well, Noah and I were awesome!!!



We were the best two in the class!
On the fourth week, Patricia, (my teacher)
told Mom it was time to start working
"off leash".

YOU SHOULD HAVE SEEN THE LOOK ON MOM'S FACE!



"Ah, ah" , I remember her saying, " this is a Schipperke,
it's not an Aussie or Sheltie".
Then Patricia got that SAME look on HER face!
I was lovin it,
cuz I knew Mom wasn't going
to win this argument

and she was about to...
CUT.... ME... LOOSE...!!!...

Mom spent the next four weeks of class chasing me
around the room....
I wanted to be with Noah,
and I'd jump anything to get to him.
Aunt Deb spent the next four weeks chasing Noah.
He didn't care about me,
he just wanted to pee in the corners.
We had so much fun, I didn't want class to end.
In the spring, we couldn't fit all the agility stuff
in the 30 x 30 so Dad put up some more fencing.
(to get the stuff off the porch)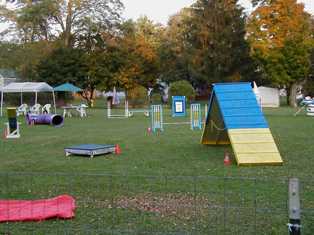 After all the equipment was out there mom realized.....
Now we have to actually do agility.

She was dragging my butt out there two and three times a day.
I would stay with her for two or three obstacles.... on a good day.
Do you know how much BUTT-TUCKEN-ZOOMIE time you can get before
someone catches you in a 100 x 100 area?.
Slowly we were getting our act together.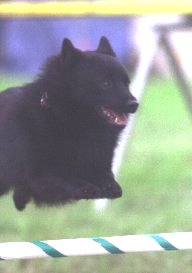 We had some of my classmates come over to practice in our new agility yard.

I don't know what mom was aiming at in this picture,
but that's Rick down there on the right.
Rick and his wife Cindy own the "Sheltie Girls".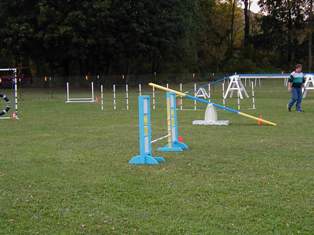 They're all cute but...
that Montana....



she's a BABE!
That summer the local kennel club was hosting an agility match and I
was going to be entered.
Mom went and checked the area out and was a wreck since the ring would be a single strand of rope inside a huge fenced area and not as secure as she would have liked it....
About a week before the match
she did something that I thought would never happen.
She got a big piece of liver and asked me if I wanted to go for a walk. Well duh, you don't have to ask me twice...
Dad was going too! Mom opened the door but this time

SHE FORGOT THE LEASH!
I WAS LOVIN IT!



I stayed pretty close to them because
I didn't want to blow my new freedom.
They took me for a few more walks like that one before the match.
Finally the BIG DAY arrived.
Some of our family members were there to watch me make
my agility Debut.
What an exciting moment!
Mom and I stepped up to the start line and the
timer said we could go.
Mom unhooked my leash and I went.

Dad ran through the ring and jumped over the ropes chasing after me,
I could hear him calling my name but hey,
I'm a Schipperke!!
It didn't take long before he grabbed me,

grrrrr
and yelled at me in front of everyone.

I was grumbling back...
"Do the words
Hunter of Vermin
*curious* *confident* *independent*
mean NOTHING?? ! "
HE was MAD!!



I WAS MORTIFIED AND LET HIM KNOW MY FEELINGS ON THE MATTER!


GRRRRRRR.



He handed me back to Mom and she
asked the judge if we could try again. She said yes,
but it wasn't going to count.

Yep, you guessed it...once again I would be going home without a ribbon.


So...we got back on the start line and this time I stayed with mom.
I didn't want Dad to embarrass me again!


Mom made a few mistakes,

BUT I WAS AWESOME!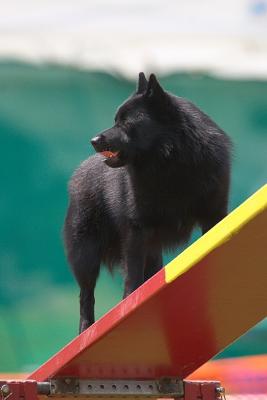 Next up was Noah,
Aunt Deb was more nervous than Mom cause
Noah had never had that much freedom either.
They got to he start line and the timer said, "go".
Aunt Deb unhooked the leash...... Noah did three obstacles,
ran across the pause table and
was making a *pee-line* to the nearest corner.


Once again, Dad was jumping ropes and chasing another little black dog....
There was Dad... Deb... Mom...strangers.... everyone was chasing my bud Noah. He was so fast, he was awesome!
Finally Dad grabbed him and it scared him so bad he started to squeal.

His squealing scared Dad so bad that he dropped him and Noah was off and running again but this time his Mom (Deb) caught him. I'm 100% sure that Noah didn't want the

P izza Dude (dads nick name) to yell at him too.

I think Noah got at least two pee's in before he was finally caught.
NOAH WAS LOVIN-IT!



After everyone had a turn we ran it again.
That was the day agility finally made sense to me...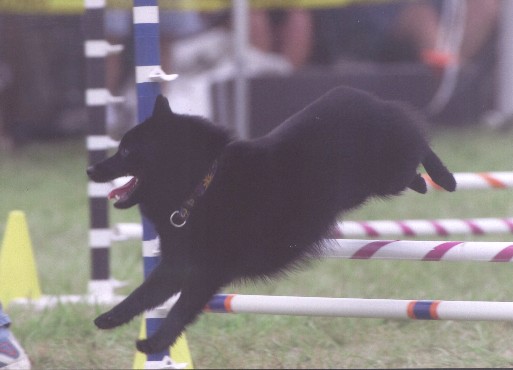 STAY WITH MOM OR YOU'LL
"TICK OFF"
THE PIZZA DUDE!!!
Yep, I was going to like Agility!
(one way or another)


GRRRR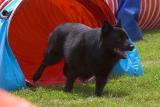 Oh, you want to know how dad got his nick name?
(Hey, could you read a little slower,
we're stalling for time so the pictures will load at the bottom

)
We make pizza if we know Aunt Deb and Noah are coming.
Dad gives us his pepperoni (along with some of the cheese)
and we DON'T have to do any tricks to get it!
Deb and Mom might give us a tiny piece if we do 101 tricks.
So, we just go stare at
The Pizza Dude.
I was entered in a real agility trial that fall.
Aunt Deb brought Noah so we could play..........
(plus the fact Mom was worried I'd take off in the ring,
but if Noah was there, I'd run to him.)
She also had her friends posted all around the ring.

WELL.....DID i FOOL HER?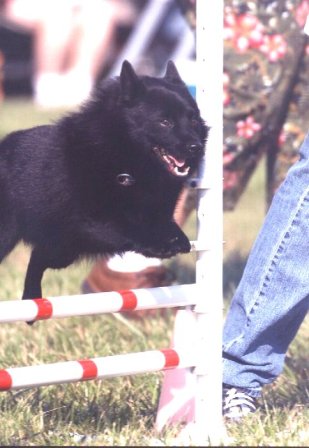 I stayed with her the entire time....
scored 100 and we were way under course time.
MOM WAS LOVIN-IT ..... I WAS AWESOME!




Yep, I finally got one.

Here's a few more photos that were taken at trials.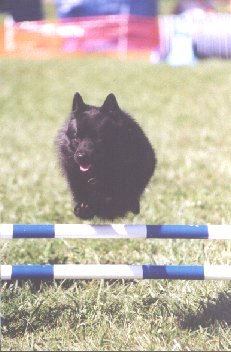 So, you're probably wondering if I still grumble....
Well, of course I do....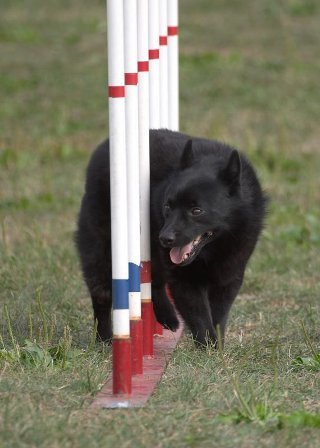 I get mad when i do the weave poles PERFECTLY,
but Mom makes me go back and do them over again.
SO WHAT
if I missed the first pole, or the last pole....
I did the darn weave poles

grrr and now
she is making me do them again....grrrr
just give me the liver!...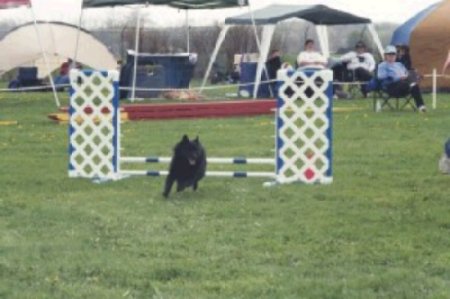 Then we practice lead-offs...
I don't care if she leaves me and gets three jumps out,
but then I have to do it over and over and over again
just because SHE
can't make up her mind which way I should go.....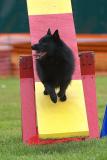 I touched the yellow contact,

why am I doing this again?

I want my kisses NOW!
LIVER TREATS... NOW ! grrr
Get down here and play tug ... NOW! grrr
just throw the darn ball


I've been on this pause table for 7.5 seconds grrrr!
I already did this jump twice, from both directions
I want my liver now! grrrr
Just give me the darn cookie!



Sorry for getting a little carried away...

I just get so excited,

I can't control myself, I'm a Schipperke you know.

SO WHAT IF I GRUMBLE!??
If you ever see me at a show and you see Mom smiling,
it's cuz
I JUST TOLD HER to.....

...... um.. um..um....
how nice she looked today....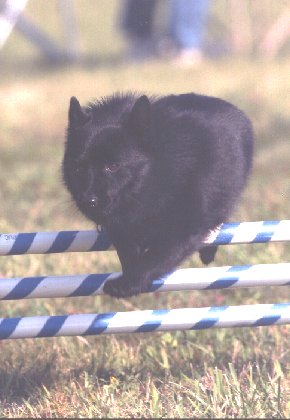 She says we might not always be winners,
but I always win her heart.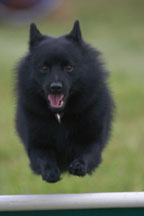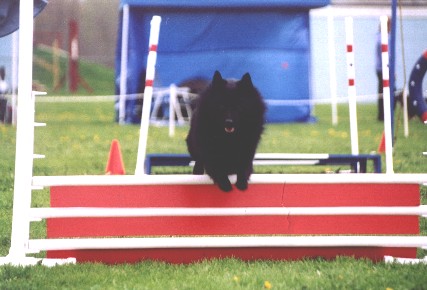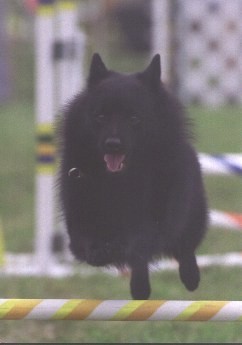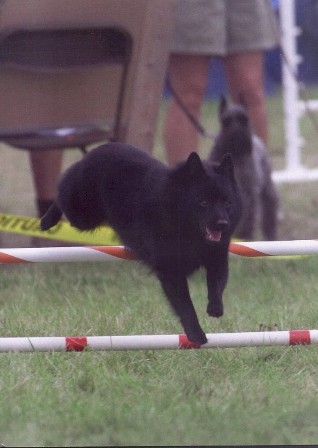 A Schip with a cart??
Monty's Salad
hospital visit
View Guest book
(unfortunately the guestbook has been discontinued because of some very rude people. (spammers.... and they probably don't even have a dog) If you would like to sign my book, just drop Mom an e-mail and she'll add it.
Thanks,
Monty